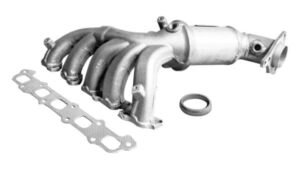 Hummer H3 3.7L Exhaust Catalytic Converter 2007 2008 2009 2010
Make: Hummer
Model:
Year(s):2007 2008 2009 2010
Description: We carry components for these European automobile manufacturers: Audi, BMW, Jaguar, Land Rover, Mercedes-Benz, Mini, Porsche, Saab, Sprinter, Volkswagen (VW, Volkswagon), Volvo ... and more.
Note to Buyer:
Their Price:
$2032.00 (USD)
Our Price:
$508.00 (USD)
More products for your vehicle make (Hummer) in various categories.
MSRP:
$2032.00
---
SALE:
$508.00
Fast Shipping
We accept PayPal and Major Credit Cards
100% MADE IN CANADA- Our Toronto based warehouse is Open for pick-ups during business hours. We provide ALL Mufflers, Catalytic Converters, front pipes, resonator pipes, flex pipes, mid pipes as well as OEM used parts for all makes and models.
Our OBD II (On-Board Diagnostics) Converters are in line with almost all North American EPA (Environmental Protection Agency) standards excluding California, Hawaii, and Alaska.
We ship to anywhere in Canada and almost all states in America.
Information Center Links
Brief Description of Sections
Shipping and Returns

Information on our shipping and handling policies.

FAQ and General Help

Frequently asked questions and general help information.

Catalytic Converter FAQ

Frequently asked questions related to catalytic converters and their functions.

Product Descriptions

Descriptions of our products such as catalytic converters, mufflers, and used parts.

Prepurchase Checklist

Please refer to our prepurchase checklist before shopping at GetYourParts.ca.